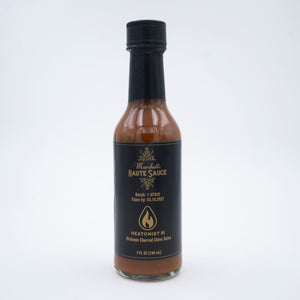 Limited Edition: Charred Chive Dulse
Regular price $15.00 Sale
Bird's Eye Charred Chive Dulse Hot Sauce. 
Created in conjunction with cult-favorite hot sauce shop, The Heatonist, to celebrate their fifth anniversary, we loved this sauce so much we decided to keep making it, even after the initial anniversary run was finished. Our friends at The Heatonist wanted a hot sauce like none other, and, well, we delivered in spades! Drawing inspiration from the Oregon coast and our love for the flavors of southeast Asian food, we began this sauce with fresh dulse seaweed harvested from the Pacific ocean, just a few hours drive from our hot sauce kitchen. Briny and brimming with umami, we took the seaweed and added white miso and smoky charred chives for a sauce that's wonderfully savory. Use it as you would a (totally vegan!) fish sauce. It's ready to drizzle over roasted brussel sprouts, into vegetable stir-fried or use as a marinade for tofu or chicken.
It is spicy, tangy, and has tons of flavor with a mild heat. It is perfect for Lamb Skewers and Bok Choy.